CBSE Datesheet of 10th-12th Term-1 exam: 
The datesheet of class 10th and 12th was released by the CBSE board on 18th October 2021, late in the evening. According to the datesheet, the Class 10th exam will start from 30th November and the Class 12th term 1 exam will start from 1st December. 
It must be noted that the students can download CBSE 10th 12th term 1 datesheet by visiting the official website of CBSE i.e. www.cbse.gov.in.  As stated by the CBSE board, it is mandatory for all students to take the Term 1 examinations. The marks obtained by the students in the CBSE Term 1 examination will be calculated in the final CBSE class 10th and 12th 2022 results in April/May.
CBSE Term 1 Class 10th schedule:
30th November: Social Science
2nd December: Science
3rd December: Home Science
4th December: Mathematics
8th December: Computer Applications
9th  December: Hindi
11th December: English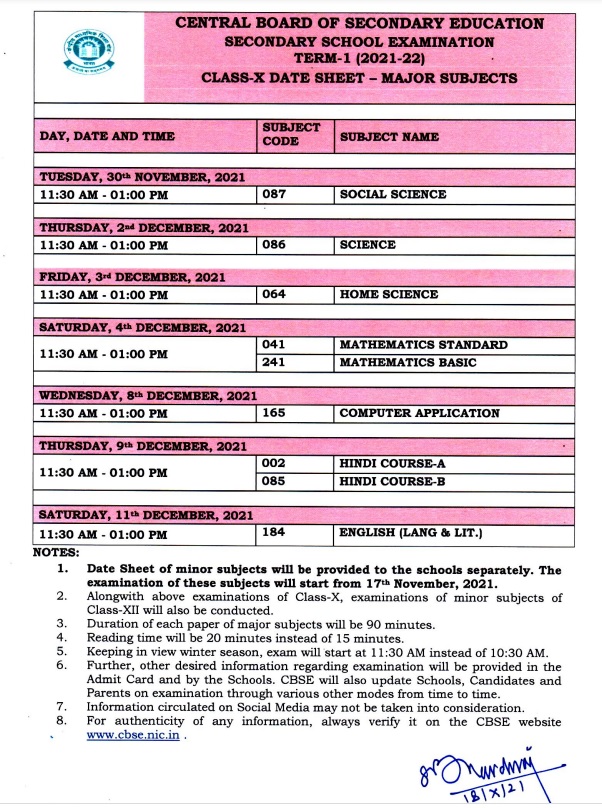 CBSE term 1 Class 12th schedule:
1st December: Sociology
3rd December: English
6th December: Mathematics
7th December: Physical Education
8th December: Business Studies
9th December: Geography
10th December: Physics
11th December: Psychology
13th December: Accountancy
14th December: Chemistry
15th December: Economics
16th December: Hindi
17th December: Political Science
18th December: Biology
20th December: History
21st December: Computer Application / Information Practice
22nd December: Home Science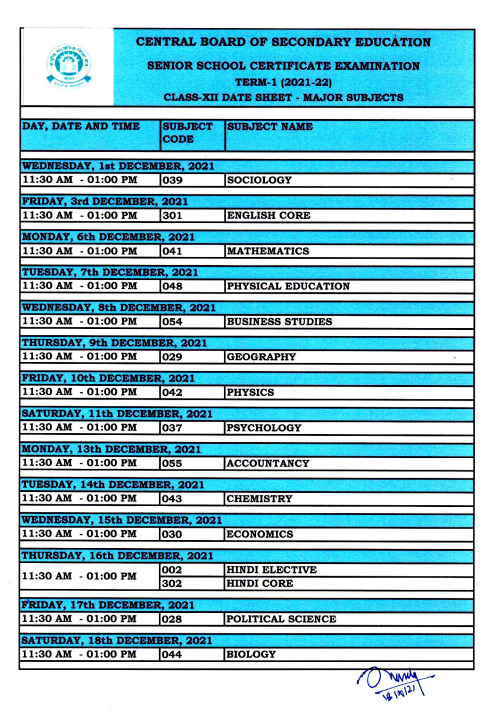 CBSE Term 1 Exam Pattern:
It must be noted that apart from reducing the syllabus this year, CBSE has also changed the exam pattern for minor and major subjects. The exam for minor subjects will be conducted first, followed by major subjects. At the same time, for minor subjects, groups of schools will be formed in which the minor subjects are being taught. Minor subjects will have more than 1 exam in a day. A total of 75 subjects will be taken in 10th and 114 subjects in 12th.
As per the new circular, CBSE Term 1 exam will be objective type and the exam will be of 90 minutes. Questions will be asked from the first part of the Reasoning Syllabus.