Janmashtami 2022: Krishna Janmashtami also known as Janmashtami or Gokulashtami is one of the most auspicious days of the Hindu calendar. On this day people celebrate the birth of Bhagwan Shree Krishna who is the eighth incarnation of Bhagwan Vishnu. Janmashtami is celebrated every year on eight-day i.e Ashtami of Krishna Paksha in Shraavana or Bhadrapad. This year it will be celebrated on August 19, 2022. 
How is Janmashtami Celebrated? 
Janmashtami holds a special place in Hinduism and especially the followers of Vaishnavism ( the followers of Lord Vishnu). On Janmashtami people keep a full day upvas and open it after the birth of Shree Krishna at midnight. Around 12 Am mandir paat is open and Krishna's birth is celebrated in temples. People cook special dishes including Panjiri, panchamrit, Makhan and everything which is loved by Shree Krishna. The day is followed by Upavasa, Ratri Jagran and Krishna Janmashtami Mahotsava. 
Krishna Jamashtami is celebrated with all the happiness and tradition in Mathura and Vrindavan, along with major Vaishnava, Dwaraka and places related to Krishna. However it is celebrated in every part of the Country Including Maharashtra, Rajasthan, Southern states. As Krishna's presence is said to be where. 
Janmashtami  Jhula, Jhanki Decoration ideas 
While Janmashtami is non less than a big festival, people around the country cook various sweets and even decorate their houses and shops with the essence of Shree Krishna. From matka's to peacock features, temples, houses and even shops are dipped in the colours of Shree Krishna's birthday. 
So if you are also planning for a big Krishna Janmashtami celebration, here are some theme ideas for your home decoration. 
Peacock Theme Decoration  for Janmashtami  Jhula
Peacocks have always been associated with Shree Krishna. In every motif and sculpture, Shree Krishna is seen wearing a peacock feather in his crown or on his head. Even if there's a silhouette with a face and a peacock feather worn on the head you can guess that it is krishna. So if it's Krishna's birthday why not colour your house in the shades of peacock? 
Use peacock feathers and pictures of peacocks in decoration. You can also make a rangoli. Take a cutout of peacocks and decorate your Krishna temple with it. With all the blues and pretty colours your house will definitely look beautiful.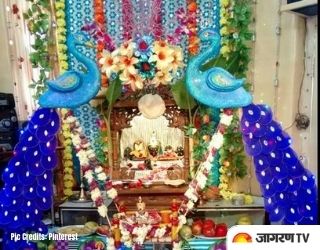 Marigold Theme Decoration for Kanha ji jhula
Phool ki Holi is very common in Krishna temples. So why not use Marigold flowers for decoration. The shades of yellow not only signifies Krishna's dressing but also brighten up your surroundings just like Krishna's auro. Plus point, Marigold will also leave a fresh fragrance in your temple. 
So decorate the walls and temple and even your house with garlands of Marigold. You can even make rangoli of flowers. With Marigold you can use rose to add colours to your decoration.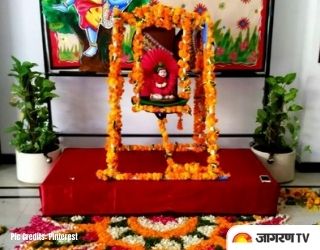 Vrindavan Theme Janmashtami 2022 Decoration
Well, Krishna's soul is in Vrindavan. The village, gopiyan, cows and his friends everything seems so pure and beautiful. Bring the small members of your family on board and craft some cows, huts and everything related to vrindavan. Trees, swigs, some human figures and of course our Krishna with Bansuri. 
Set your temple and even a corner of your house and recreate the Vrindavan scene. You can even make your family members dress up in the outfit of Vrindavan people and one member as Krishna.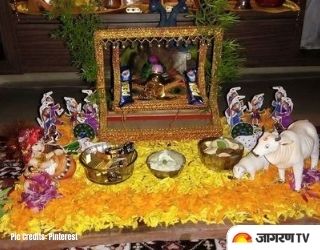 Govardhan Parvat Theme Decoration Janmashtami 2022
There are many stories related to lord Krishna. Be it Kansa Vadh aur Maharabharat, Krishna's life is non less a series of Holy teachings. Remembering such an incident, like Govardhan Parvat recreates the scene in your house. Again bring some craft hands and make a cutout of Govardhan hill with thermocol sheets or anything you can think of. Create a hill and then fix it on the finger of your Krishna's sculpture or portrait. Cut out some sculptures of Gokul people and recreate the scene. You can also add the background walls with cotton to recreate clouds and scenes of rain.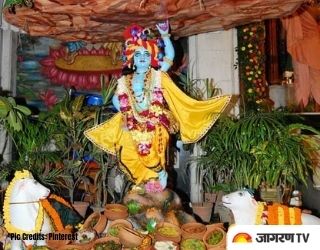 Makhan Chor theme  Decoration for Janmashtami Jhaki 2022
Well, our little Krishna is Makhan chor and we just can't get angry at her. Krishna's bal leela and his stories of stealing butter are just funny and cute. So why not make your house decor themed on Makhan Chor Krishna? Bring some weather pots and decorate them beautifully with cotton to make them look like Makhan ki Matki. You can even put a real Makhan ki Matki in the temple. Hung 2-3 matki on walls just like gopiyan use to do. 
Also, keep a check on Krishna or he will eat your Makhan for sure.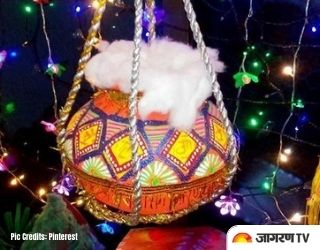 Radha Krishna theme Decoration 
The eternal love story of Radha Krishna which no one can forget. So why not bring the colors of love and the essence of Radha Krishna in your Janmashtami decoration. Decorate the temple with Lotus (Krishna is called as Kamal Nain (Eyes beautiful as Lotus) and decorate the sculpture of Radha Krishna. You can also recreate the scene of Raas Leela from Vridanvan.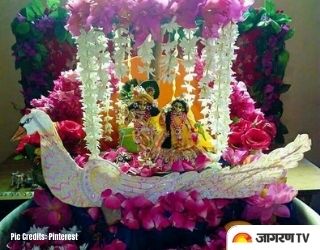 You can even mix the decoration ideas and create something more beautiful. Also not to forget the Bhog and yes the soothing Krishna Bhajan and songs. Get the party-ready as our Krishna is arriving. Let 'Radhe Radhe' melt in the air and your ears. 
RADHE RADHE !