October 2021 Movie and Web Series Releases including Sardar Udham, Rashmi Rocket, Sanak, Honsla Rakh and others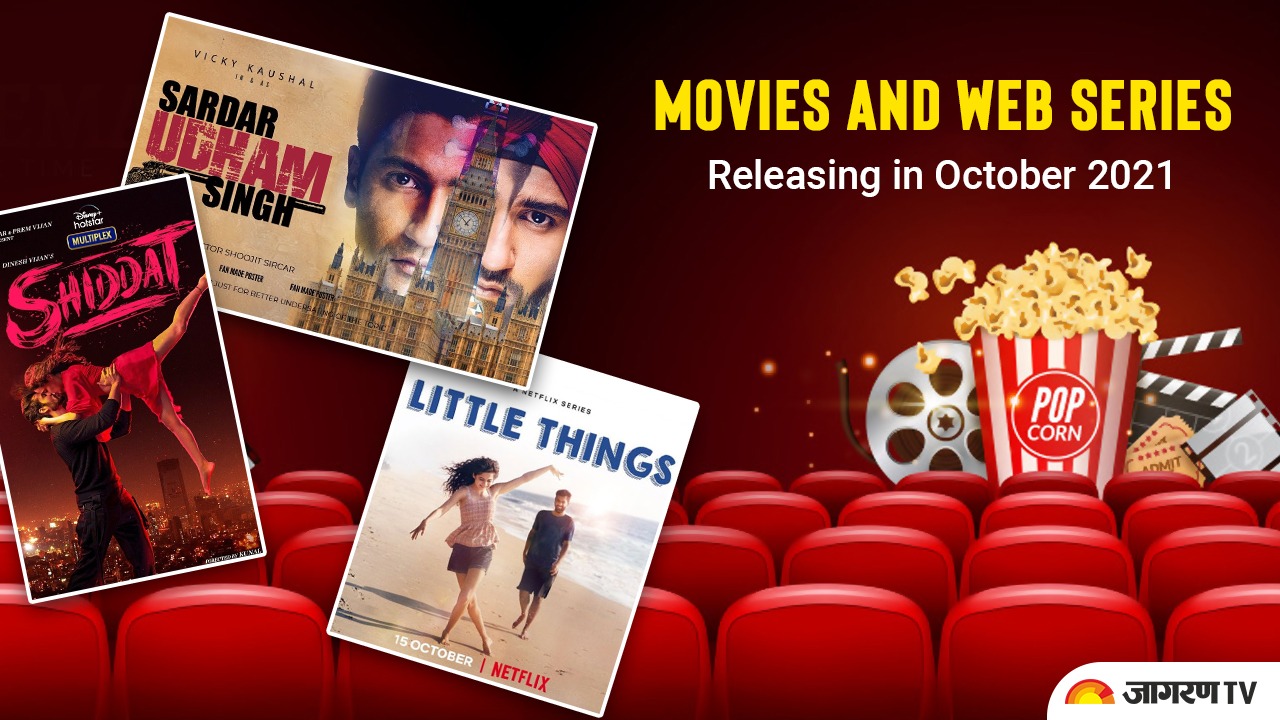 October 2021 Movies and Web Series: Autumn is here and so is the all-new list of movies and web series releasing on OTT and Theaters. Video streaming platforms including Netflix, Amazon Prime Videos, Disney Plus Hotstar, Zee 5, Sony Liv, Mx Player, and others release a bunch of new and old movies and series on their platforms every month. Enough to give you the menu for binge-watching sessions, movie dates, spooky nights, and many more moods. 
Here is the list of all the latest and old films and web series which will be streaming on OTT platforms in October 2021. From Sardar Udham, Little Things Season 4 to Shidat here are the release date of all your much-awaited films and series both Bollywood and Hollywood. 
NETFLIX
 October 15- Little Things Season 4
October 1
A Knight's Tale

An Inconvenient Truth

Are You Afraid of the Dark?, Season 1

As Good as It Gets

Awakenings

B.A.P.S.

Bad Teacher

The Cave

Desperado

The Devil Inside

Diana: The Musical (Netflix special)

Don't Be a Menace to South Central While Drinking Your Juice in the Hood

Double Team

The DUFF

Eagle Eye

Endless Love

Forever Rich (Netflix film)

Ghost

Gladiator

The Guilty (Netflix film)

Hairspray

The Holiday

Jet Li's Fearless

The Karate Kid

Lara Croft Tomb Raider: The Cradle of Life

Léon: The Professional

MAID (Netflix series)

Malcolm X

Observe and Report

Once Upon a Time in Mexico

Paik's Spirit (Netflix series)

Project X

Robin Hood: Prince of Thieves

Rumor Has It…

Scaredy Cats (Netflix series)

Seinfeld, Seasons 1-9

Serendipity

The Seven Deadly Sins: Cursed by Light (Netflix anime)

A Sinister Sect: Colonia Dignidad (Netflix documentary)

Spy Kids

Spy Kids 2: The Island of Lost Dreams

Spy Kids 3: Game Over

Step Brothers

Swallow (Netflix film)

The Ugly Truth

Till Death

Titanic

Tommy Boy

Unthinkable

Waterworld

Zodiac
October 3
Scissor Seven, Season 3 (Netflix anime)

Upcoming Summer (Netflix film)
October 4
October 5
October 6
Bad Sport (Netflix docuseries)

Baking Impossible (Netflix series)

The Blacklist, Season 8

Ella Fitzgerald: Just One of Those Things

The Five Juanas (Netflix series)

Love Is Blind: Brazil (Netflix series)

There's Someone Inside Your House (Netflix film)
October 7
The Billion Dollar Code (Netflix series)

Sexy Beasts, Season 2 (Netflix series)

The Way of the Househusband, Season 1: Part 2 (Netflix anime)
October 8
A Tale Dark & Grimm (Netflix series)

Family Business, Season 3 (Netflix series)

Grudge / Kin (Netflix series)

LOL Surprise: The Movie

My Brother, My Sister (Netflix film)

Pokémon the Movie: Secrets of the Jungle (Netflix film)

Pretty Smart (Netflix series)
October 9
October 11
The Baby-Sitters Club, Season 2 (Netflix series)

Going in Style

The King's Affection (Netflix series)

Shameless, Season 11
October 12
Bright: Samurai Soul (Netflix anime)

Convergence: Courage in a Crisis (Netflix documentary)

Making Malinche: A Documentary by Nacho Cano (Netflix documentary)

Mighty Express, Season 5 (Netflix series)

The Movies That Made Us, Season 3 (Netflix docuseries)

Rita Moreno: Just a Girl Who Decided to Go For It

Smart People
October 13
Fever Dream / Distancia de Rescate (Netflix film)

Hiacynt (Netflix film)

Reflection of You (Netflix series)

Violet Evergarden the Movie
October 14
Another Life, Season 2 (Netflix series)

In the Dark, Season 3

One Night in Paris (Netflix film)
October 15
CoComelon, Season 4

The Forgotten Battle (Netflix film)

The Four of Us (Netflix film)

Karma's World (Netflix series)

Little Things, Season 4 (Netflix series)

My Name (Netflix series)

Power Rangers Dino Fury, Season 1

Sharkdog's Fintastic Halloween (Netflix special)

The Trip (Netflix film)

You, Season 3 (Netflix series)
October 16
October 19
October 20
Found (Netflix documentary)

Gabby's Dollhouse, Season 3 (Netflix series)

Night Teeth (Netflix film)

Stuck Together (Netflix film)
October 21
Flip a Coin -ONE OK ROCK Documentary (Netflix documentary)

Go! Go! Cory Carson, Season 6 (Netflix series)

Insiders (Netflix series)

Komi Can't Communicate (Netflix anime)

Life's a Glitch with Julien Bam (Netflix series)

Sex, Love & goop (Netflix series)
October 22
Adventure Beast (Netflix series)

Dynasty, Season 4

Inside Job (Netflix series)

Little Big Mouth (Netflix film)

Locke & Key, Season 2 (Netflix series)

Maya and the Three (Netflix series)

More than Blue: The Series (Netflix series)

Roaring Twenties (Netflix docuseries)
October 24
October 25
October 26
Roswell, New Mexico, Season 3

Sex: Unzipped (Netflix series)
October 27
Begin Again

Hypnotic (Netflix film)

Nobody Sleeps in the Woods Tonight Part 2 (Netflix film)

Sintonia, Season 2 (Netflix series)

Wentworth, Season 8

The Motive (Netflix documentary)
October 29
Army of Thieves (Netflix film)

Colin in Black & White (Netflix series)

Dear Mother (Netflix film)

Mythomaniac, Season 2 (Netflix series)

The Time It Takes (Netflix series)
AMAZON PRIME VIDEO
October 10- Thalaivii 
October 16 - Sardar Udham
October 1 :
The Nice Guys 

My Name Is Pauli Murray 

The Book of Eli 

Don't Breathe 

Bingo Hell 

69: The Saga of Danny Hernandez 

All or Nothing: Toronto Maple Leafs 

Do, Re, & Mi 

Black as Night 
October 4 :
October 8 :
October 12 :
October 14 :
October 15 :
October 16 :
Nobody

The Good Doctor Season 4
October 17
October 21
October 22 :
October 28 :
October 29 :
Disney+ Hotstar
  October 1st
Shiddat

LEGO Star Wars Terrifying Tales

Alvin And The Chipmunks

Alvin And The Chipmunks: The Road Chip

Just Roll With It: You Decide Live!

The Scariest Story Ever: A Mickey Mouse Halloween Spooktacular!

  October 6th

Among the Stars

 Turner & Hooch | Episode 112 "Bite Club"

What If...? | Episode 109

Chip 'n' Dale: Park Life | Episode 111 "Night of the Pizza Moon/Who's Your Granny?/Summer Sidekick Syndrome"

Doogie Kamealoha, M.D. Episode 105 "Dunk Cost"

Black Widow

Disney Junior The Chicken Squad (S1) Ep. The Surprise Party Surprise/U.F. Oh No Drain The Oceans: The Mississippi River & Arctic War (S1)

Drain The Oceans (S4)

The Ghost And Molly McGee (S1), 5 episodes

Impact With Gal Gadot (S1)

Muppet Babies ($3), 9 episodes

Puppy Dog Pals (S4), 5 episodes

Mansion, Our Very Own

Spidey And His Amazing Friends (S1) Ep. Rocket Rhino/Trick Or Trace-E
  October 8th
  October 13th
• Just Beyond

Chip 'n' Dale: Park Life | Episode 112 "Delivery Duck / Dark in the Park/Choppin' Dale"

-Doogie Kamealoha, M.D. | Episode 106 "Career Babes"

Apollo: Back To The Moon (S1)

Mickey Mouse Mixed-Up Adventures (S1) Ep. The Spooky Spook House/ Clarabelle's Banana Splitz!

Secrets Of The Zoo: North Carolina (S1)

.Secrets Of The Zoo: Down Under (S2)

The Wizard Of Paws (S1)

• Zombies: Addison's Moonstone Mystery Shorts (S1)

  October 15th

Lost Cities With Albert Lin: The Great Flood

•Megacity Of The Maya Warrior King
 October 15
 October 20th
Disney Insider | Episode 108 "Drawn To Life, Muppets and the Haunted Studio Tour"

•Doogie Kamealoha, M.D. | Episode 107 "Mom-Mentum".

Marvel Studios: Assembled "The Making of Black Widow"

Disney's Magic Bake Off (S1), 4 episodes

PJ Masks (55), 6 episodes
  October 22nd
Rookie Of The Year

Thumbelina
  October 27th
Disney Insider | Episode 109 "Harmonies of Harmonious, Tiana's Cuisine, Galaxy's Edge.

Expands... Virtually"

Doogie Kamealoha, M.D. | Episode 108 "Talk-Story"

Marvel Studios: Assembled | "The Making of What If...?"

Port Protection Alaska (S4)
  October 29th
ZEE5
October 1
October 15